Look at it. It's just so elegant, so concise...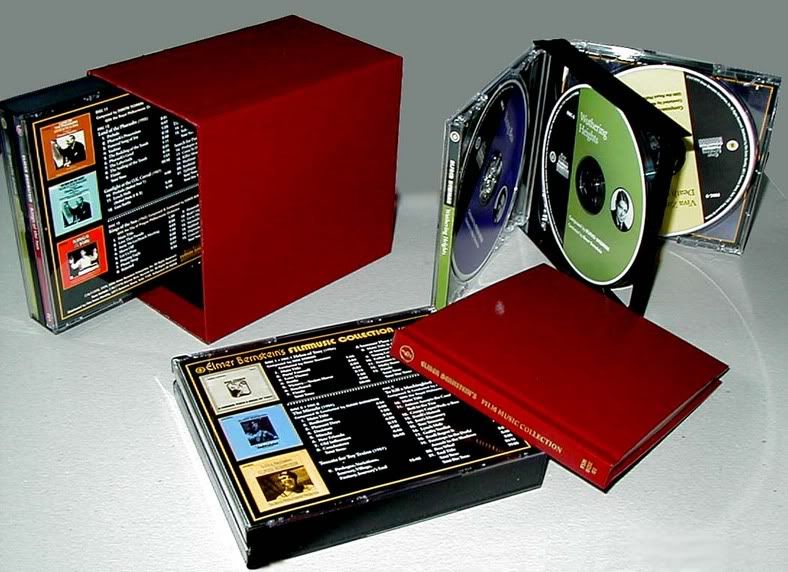 I spent hours last night reading through the liner notes in that beautifully rendered insert book. I listened listened with glowing glee to
The Miracle
(what a score!). I chuckled at the silly songs in
The Thief of Bagdad
... look at all this Miklós Rózsa!!
Bagdad
,
Madame Bovary
and
Young Bess
!!! Max Steiner and Franz Waxman... and the acclaimed FMC recording of Bernstein's own
To Kill a Mockingbird
... I have the Ava LP of the original soundtrack recording, and my understanding is that this is the closest performance to that one; not that I mind the re-recording Bernstein did with Varése so much, but the film is just one of the best-scored in history, and the closer one can get to the original, the better the music fares (in my opinion).
I haven't compared the sound on Herrmann's
The Ghost and Mrs. Muir
to the Varése release yet, but I prefer the sound of the FMC recording of
Torn Curtain
to the cavernous Varése release (that sound worked well on
Vertigo
, but not too many of their other re-recordings; on Goldsmith's recording of
Patton
, the immediacy of the music was severely compromised).
2006 has had some great film music releases, with a truckload of really good new scores (even if the films haven't been quite up to snuff), and a cornucopia of archival releases gifted us by the likes of Varése, Intrada, La La Land, Prometheus and all, but I feel that Film Score Monthly can claim the prize because I think that this one really qualifies as the release of the year. And while I sympathize with those who can't afford it, there's no point in bitching about the price. It's worth every penny that Screen Archives is asking for it.
Strange.
The Ghost and Mrs. Muir
is the one of the discs that doesn't list the Royal Philhamonic Orchestra on it. All this time, I thought that the entire series (save Jerry Fielding's
Scorpio
), was recorded with the RPO. I have to change the text on the artwork on
Songs of the Heavens
now!!!
KUDOS
TO LUKAS KENDALL FOR WADING THROUGH ALL THE LEGAL CRAP HE HAD TO IN ORDER GET THESE RELEASED. This set is amazing!!! A film score addict's impossible dream come true.
I noticed none of the discs were on the CDDB as of this morning.